I am on Cloud 365 with Microsoft Office
Yippee! My blog post "
Taking Technology to the bottom of Pyramid with Microsoft 365"
has won a prize in Microsoft Office 365 blogging contest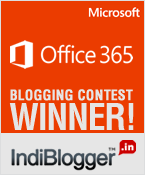 What I won?
I won a one year free subscription of Microsoft Office 365 and a mouse.
Yup a muse that is a mouse and a mouse that is a muse.
Yippee and not just this. Both of my post for Dove Contest (links given below) have also won a consolation prize. Not bad.

What have I won? well two spa vouchers. So if Spa experience goes well, I will share a post here!