Between Gargoyles & Demons, "iFrankenstein"- Movie Review
Production Year : 2014
Directed by: Stuart Beattie
Starring: Aaron Eckhart, Bill Nighy, Miranda Otto
Genre: Fantasy, Sci-fi, Thriller
What happens when a "soul less" monster is trapped between Angelic Gargoyles and Beastly Demon? Well he finds higher purpose of his life. Yeah True that!
I, Frankenstein is a story of the monster created by scientist Victor Frankenstein in Mary Shelley's best selling novel- Frankenstein. The movie begins with Frankenstein leading his creator to death, burial. He gets rescued by Gargoyles from the Demons and taken to the sacred cathedral where the "non just ornated" gargoyles stayed and ran vigilance over the city. In a beautiful screenplay and dialogue with the charming Gargoyle queen who gives him a new name- Adam and a sacred Gargoyle weapon to kill demons but hides his secret "not found does not mean it do no exists" journal safely from the disarming beasts. Adam leaves the place only to be captivated back after 200 years during his search to find Demon Prince- Naberius.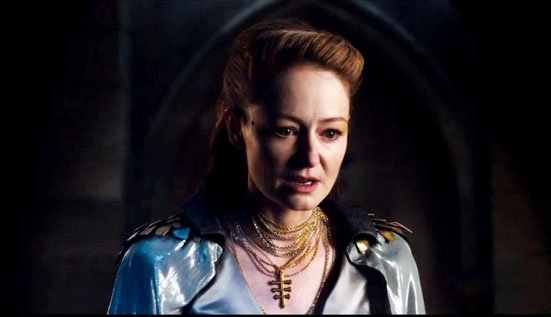 What follows next is a "thrilling, not so-on your seat chase" between the demons who wanted to lay hand on Scientist Victor Frankenstein's Journal or the soul less man- Adam himself. The red and blue, descend-ascend video game chase between Gargoyles and Demons, Adam founds himself in quagmire to chose between either or go finding his higher purpose of life with the help of the female scientist working in the secret lab of billionaire Wessex. All's well that ends well. Demons are destroyed, their secret mission foiled, Gargoyles losses some of their team members and monster finds his gratification. Why? well that is the question you must not ask.
The story has many loopholes like it was not understood how a well meaning scientist ends up staying in that barrack kind of place even though century has changed double digit and how a monster who was created from dead body knew how to read, understand science and builds a six pack and made a well meaning girl falling over his clean, bruised abs muscles.
The actors fit the bill and Aaron Eckhart as the scar-faced monster with touted abs plays his bit convincingly. His stern demeanor was well matched by Miranda who played Queen Leonore but leaves you feel if she could have been utilized more. This goes same for Nighy "never presume that you can presume me" who played a typical demon prince.
Yeah! I am the next Super Hero in making
This Abs have that sex appeal on the scientist
who just saw a demon in real and escaped death.
If I marry her I need to ensure that I do not displease her
cause she has that secret formula of making the corpse come
alive and create another Frankenstein!
Overall, you may not like to fit a lot of logic in the film if you truly want to enjoy a sci-fi evening out watching a 3D movie with beautiful light effects. The good part is that film is not very scary and the bad part is that horror lovers may not like it. The film is packed with devised sleek action sequence with equally befitting camera and computer graphics works. However, at one point the film, too laden with demon v/s gargoyle, ascend v/s descend appeared as a video game and the scoreboard. The character lacks depth and the film tend to get incoherent at places but unless you are big fan of sci-fi [which I am not], you must not criticize much, just lay back and enjoy!
Overall Verdict is that I had a good time watching this film even though as I suggested that there were certain gaps that I could not quite understand. The film is slow in beginning but it gains pace quiet soon and then it drags in certain parts. I did not find the movie outright silly and loved the artwork. Would I recommend watching? Yes please. It is a fiction after all and like all story teller even the Stuart had his right to narrate the story his own way.
Numerounity rating: 3.5
/
5