Item Girl Rose to fame, India gets a new Female PM
Breaking news!
Rioters 14th May 2014
In a serious unfold of events, the nation awakes to witness the rise of female alias women empowerment in form of a young female leading the nation as the country's next Prime Minister . 0123 Years old, Sakhi Rawant who has lead her life in service of others will be appointed as next PM of the country. This first time candidate from Notional Kaam Party AKA NKP has achieved in her first ever political venture that even the usual 80years old politician could not.
The "swearing" ceremony will take place on 20th May at the "Hariyali Farmhouse" of the legendary item girl who took to a bigger cause for her life, to commemorate her victory and celebrate the same with inspiration behind her election symbol- Hari Mirch aka Green Chilies.
Sakhi gives all te credit of her success to sheer hardwork. She reiterates how she has soiled in the sun by doing door to door campaign, giving her sweat and blood to the cause. She gives the entire credit to all the prospective mother in laws who actively participated in her Swayamvar on national TV. In her words- Thank you Mujhe Bahu-mat banane ke liye magar bahumat se jitaane ke liye. To reinforce her belief in fostering change to this society, she plans to throw a tea party for all her party members, sponsored by Taaj-aa tea. Jago ree.
The official news partner of NAP would like to convey their heartfelt best wishes to the new PM. Let us join hands and F..K oops Buck up the women empowerment. Dear Sakhi, we look forward at you for a great stint in your new role. Rise, Shine and keep your fervor up like the true flavor of your Election symbol- Hari Mirch.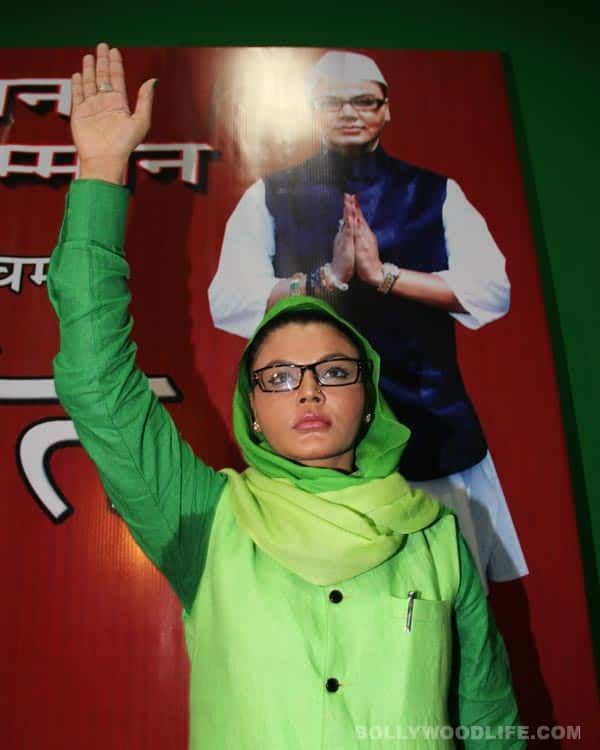 Photo File: I have given my blood and err sweat for this
PS: if you wondered why Sakhi dressed like national flag of neighboring Pakistani sans a moon, the answer would be a simple wardrobe mis-function herein the legendary actress has asked her designer to make a costume similar to her party symbol [So that she can get inside the role effectively]
Photo File- Mujhe Bahu-mat banaye magar mujhe bahumat se jitaaye.
_____________________________________________________________________________
This post is a part of
Write Over the Weekend
, an initiative for
Indian Bloggers
by BlogAdda.